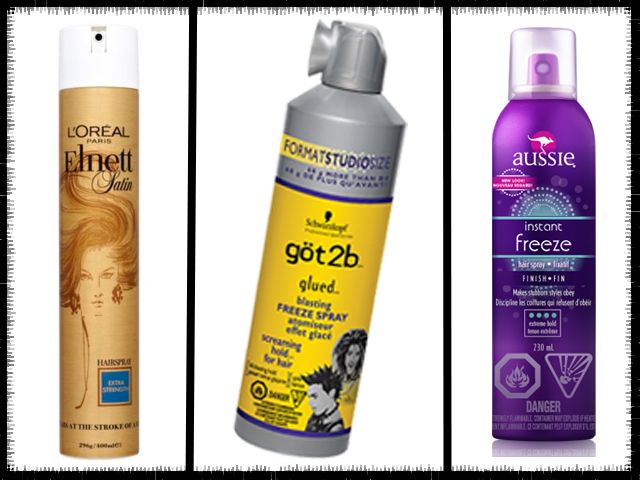 If there is anything I've learned from basically trying to shellac my DD's hair to her head, it's that 'the most expensive' and 'most recommended by professionals' does not always translate to 'the best'. When it comes to competition 'dos, cheaper has proven to be better. If your kid needs an elaborate style or just has fine/thin hair with a mess of fly-aways (like mine), then you shouldn't look farther than your local Wal-Mart to fill your dance bag.
Unfortunately, there are a lot of products that aren't available to us Canucks, so tried and true staples like Aquanet and Freeze-It aren't realistic recommendations. Listed below are what I think are the 3 best products for competition ready hair:
göt2b Glued Blasting Freeze Spray (MSRP $6.96 - Walmart.ca)
It's all in the name. Glue and Freeze are pretty much the exact words I would use to describe this product. The trick is to apply it when the hair is partially wet and use your hands. The shape of the spray nozzle makes it hard to aim at a specific area, so it's best just to spray it on your palms and work it into the hair.
L'Oreal Paris Elnett Satin ExtraStrong Hairspray (MSRP $9.76 - Walmart.ca)
This is great when you have to change looks throughout the day. If you have to go from sleek up-do to down and curly, this hairspray doesn't get too stiff to brush through. I find I don't have to use a spray bottle of water just to make the hair malleable again.
Aussie Instant Freeze Hairspray (MSRP $3.46 - Walmart.ca)
To be honest, this is my go-to hairspray if I forget to pack one of the other two. It does a decent job and I can usually find it anywhere, whether it be at a drug store or in another dancer's competition bag. It's got great hold and doesn't cause as much buildup as other drugstore brands.
Unfortunately, because hairspray is considered a hazardous material by most postal services, I don't think I'll be able to offer it in The Competition Box. Perhaps, since it's an easier item to find, I should just stick to sourcing other quality hair necessities.